Bloor Islington Place is focused on providing support and guidance to our retail and office and tenants as we welcome you back to the complex. Our property management team has developed an action plan that adheres to the advice of the provincial government and medical authorities to implement the best practices for the health and safety of our tenants and visitors.
Providing a safe and healthy environment for our tenants has always been our number one priority. As we all navigate this new situation in the weeks and months ahead, please know that the property management team is available to answer any questions you may have. If we keep the lines of communication open, we will get through this together.
WHAT TO EXPECT
Access Measures – Entering & Exiting
There are specific entrance and exit doors for all occupants to follow to diminish the opportunity for individuals to cross paths. Instructions and signage have been installed at all access points into the building outlining the recommended traffic patterns.
Ground Floor Concourse
Posters promoting self-care along with best hygiene practices and hand washing campaigns have been installed in the ground floor concourse area. Signage encouraging social/physical distancing is installed throughout the complex.
City of Toronto Facemask ByLaw
To protect the health and safety of communities, Toronto City Council voted unanimously in favour of requiring masks or face coverings in all enclosed public places to help stop the spread of COVID-19. Please ensure that you are wearing a mask when utilizing any common areas within the complex, including the elevators. For more information, please visit https://www.toronto.ca/facemasks/.
Washrooms
Additional hand sanitizers have been installed at common area washrooms entrances. Signage has been added to these areas to stress the importance of hygiene and social distancing.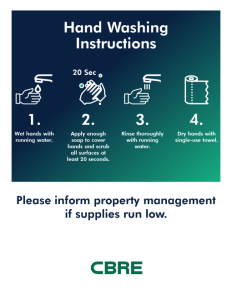 Elevators
In order to comply with social/physical distancing measures, a maximum of 3 passengers will be permitted to ride in an elevator cab at one time. Because the Main Parking elevators are slightly smaller, only two people will be permitted to ride at one time. Decals have been installed in the elevator cabs to clearly identify the acceptable zones for standing when riding the elevator with other passengers.
Food Court & Retail Tenants
Many of the businesses in the Food Court along with other retailers are now open.
Stairwells
Stairwells will be made available to be utilized to travel up to designated floors should there be individuals that do not want to wait and/or travel up to their offices via the elevators. Signage will be placed to indicate designated "up" and "down" stairwells. In the West Tower, a site plan showing the access route through the green roof will be provided at a later date.
Housekeeping Practices
Dedicated day staff is focused on increased frequency of cleaning and disinfecting in high density and high-touch point areas such as:
building and elevator lobbies
elevator interiors
buttons and surfaces
restrooms
building entrances
handrails
trash containers
other frequently touched surfaces
Cleaning staff utilize approved disinfectants and have received COVID-19 training sessions on cleaning protocols and proper use of disinfectants. Night staff focus on areas within tenant premises including disinfecting all desk surfaces that have been cleared including telephone handsets.
Bike & Parking Facilities
The parking operation and bike facilities continue to remain open.  It is anticipated that there may be an increase in vehicle commuters in response to COVID-19, who are seeking alternatives to public transit. We recommend that you arrive early to ensure you have an opportunity to secure a parking space or bike spot.
Tenant Return-to-Work Strategy
We encourage all tenants to conduct a comprehensive review of all operational activities and services that occur within your offices as part of your return to work plan.
Some things to consider include:
Communicating and collaborating with property management on your return to work plan
Phasing in your staff returning to the office
Some flexibility for your employees' hours to avoid access delays and minimize crowding
Implementing social distancing measures within your premises
Encouraging employees to remove items from desktops at the end of each day to assist with effective cleaning measures.
If you haven't already done so, please submit your return to work survey at your earliest convenience.
Management Office
CBRE offices will continue to exercise measures to protect our staff and ensure all tenants and visitors are looked after as well. Personnel will be wearing PPE when making a visit to your suite for maintenance requests. Our management office will observe social distancing guidelines by not accepting visitors to our office but rather encouraging you to connect with our staff via email or phone and hope to resume in-person visits as soon as safely possible.
Useful Links
World Health Organization (WHO): https://www.who.int/
Centers for Disease Control:   https://www.cdc.gov/
Public Health Agency of Canada:  https://www.canada.ca/en/public-health.html
The PHAC always recommends everyday preventive actions to help prevent the spread of respiratory viruses, including:
Wash your hands often with soap and water for at least 20 seconds. If soap and water are not available, use an alcohol-based hand sanitizer.
Avoid touching your eyes, nose, and mouth with unwashed hands.
Avoid close contact with people who are sick.
Stay home when you are sick.
Cover your cough or sneeze with a tissue, then throw the tissue in the trash.
Clean and disinfect frequently touched objects and surfaces.